About Us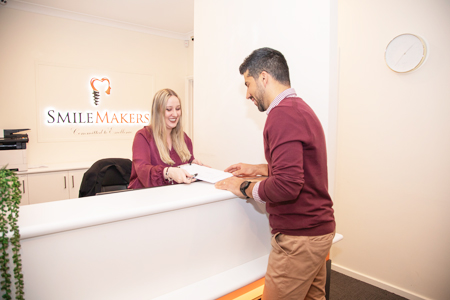 Smilemakers is conveniently nestled between the tranquil shores of Lake Goollelal and the Olympic Madeley Sports Club. In our multicultural area, including Marangaroo, Landsdale, we welcome patients from all walks of life. Families, business professionals and retirees can all get the dental care they need with our team.
Our practice has been a part of the community for more than two decades. By offering all the services you need at one location, we make getting the attention your oral health deserves simpler than ever.
Your Centre For Contemporary Dentistry
Technology in the dental industry has made leaps and bounds in recent years. We've taken advantage of these developments to bring our patients the best care. The state-of-the-art equipment we utilise includes digital anaesthesia, a microscope and a Tekscan® for digital bite analysis.
Flexible Hours That Work for You
We want your appointments to fit seamlessly into your schedule. You can come in over your lunch break or after work during our Thursday evening hours. We're also here for you on Saturdays so that your kids don't have to miss school to attend their checkups. Contact us today to schedule an appointment! We have same-day bookings available.
CONTACT US

About Smilemakers | (08) 9309 4977