Oral Hygiene Checkups at Smilemakers
At Smilemakers, we provide state-of-the-art dental care for all ages. With the latest techniques and equipment available, you'll be sure to get the contemporary solutions you require with us. Our many services include oral hygiene checkups, which are essential to making sure that your teeth and gums stay healthy for life.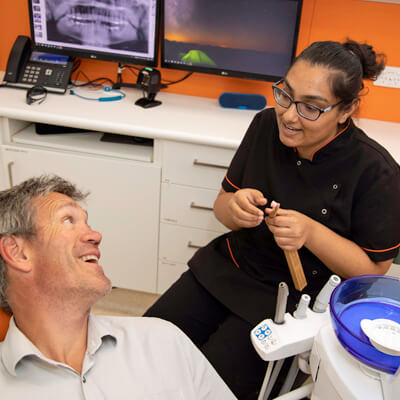 As a new patient, you have the choice of booking in for two different options: our comprehensive new guest experience or a cleaning and brief examination. Below, you can read more about these choices to determine which is right for you.
Our New Guest Experience
During a one-hour appointment, you'll have a thorough examination completed by our team. We'll discuss what has brought you in and any concerns that you may have. No treatment is done on the day. Instead, we'll work up a complete treatment plan that covers all your future dental needs.
You can use your health fund cover for this visit and there is no gap to pay.
Your Cleaning and Examination
You can schedule a cleaning and brief examination booked together. Your cleaning will be completed with Nistha, our dental hygienist. You'll have a quick 15-minute examination to determine if you need further treatment. The cost of this visit is based on your health fund. If you do not have cover, the fee is $200.
Keep Your Smile Bright
Did you know that a cavity doesn't always involve pain? Similarly, you may not know that you have early signs of gum disease that require treatment. That's why it's vital that you have routine dental examinations and cleanings. Those will ensure that your teeth stay bright, healthy and that no potential issues are present that can become costlier and more serious in the future.
What Our Cleanings Involve
You might think that your brushing and flossing have the same effect as a professional dental clean. In reality, our cleanings go much deeper than you can at home. Our dental hygienist will scrape the tartar from your teeth, which cannot be done with your toothbrush and floss. The next step is to have a polishing compound applied to teeth. Lightly abrasive, it cleans deeply and removes any stains on the surface of your teeth.
Finally, your hygienist will floss your teeth to fully remove plaque that is trapped between teeth. We may also recommend having a fluoride application that will protect your teeth from decay.
Health Fund Information
We accept health funds and are providers for Bupa, Medibank and HCF. Contact Smilemakers today to book your appointment for an oral hygiene checkup Madeley!
CONTACT US

Dental Checkups Madeley, Marangaroo, Landsdale, Darch WA | (08) 9309 4977