Crowns and Bridges at Smilemakers
At Smilemakers, you'll find the dental solutions that suit the needs of your whole family. If you have sustained damage to your smile, you may have teeth that are broken down or missing. If so, we can provide crowns and bridges that will help you feel proud of your smile again.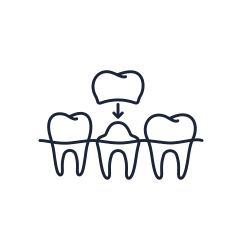 Restore Your Smile With a Crown
Occasionally, you may need something more than a filling to regain your oral health. If your tooth has been compromised from decay, trauma or the ageing process, a crown may be ideal. It is a cap that covers your existing tooth structure. After it's been placed, you will have the full function and aesthetics of a natural, beautiful smile.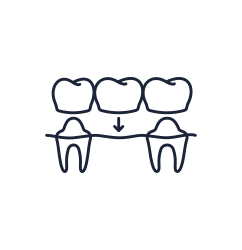 Bridging a Gap in Your Teeth
Missing teeth can make you feel self-conscious. A dental bridge is created from crowns attached to neighbouring teeth around the gap. An artificial tooth is then suspended in the middle, filling in the open space. It's a cost-effective, simple way to love the way your smile looks.
What to Expect in Getting a Crown or Bridge
The first step is to have an evaluation. We'll meet with you to determine if a crown or bridge is right for you. If so, we'll gather information such as impressions. This information is sent to our local laboratory, where your crown or bridge is created. Once it has been fabricated, the laboratory will send it back to us. We'll have you book in for a follow-up. At this appointment, we'll cement your crown or bridge into place.
Our Guarantee on Crowns
When it comes to crowns, we use the best available materials to make sure that they're long-lasting. We provide a five-year guarantee on all of our crowns. If you have any type of breakage with your crown, we will be happy to replace it at no cost to you.
Book Your Consultation Today
Learn more about improving your smile with crowns and bridges Madeley. Contact Smilemakers today! We have Saturday and same-day appointments available.
CONTACT US

Dental Crowns & Bridges Madeley, Marangaroo, Landsdale, Darch WA | (08) 9309 4977