Tooth Extractions at Smilemakers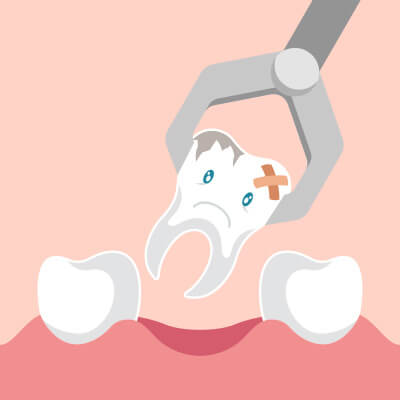 At Smilemakers, we want to make sure that you and your entire family can show off a beautiful and healthy smile. Though you may brush and floss and try to keep your regular dental appointments, you can still experience problems with your teeth. We'll make every effort to save your natural teeth whenever possible. In some cases, however, an extraction may be required.
Our experienced team is well-versed in providing routine extractions and wisdom teeth removal.
Why Might You Need a Tooth Extracted?
It's always preferable to preserve your teeth. There are some situations in which we may recommend that you have a tooth extracted, such as:
Excessive decay
Advanced infection
Crowded teeth
Before completing orthodontic treatment
Trauma such as broken teeth
Wisdom teeth that are impacted
Comfortable Wisdom Teeth Extractions
The last molars to grow in are called the wisdom teeth. If they can't erupt due to a lack of space, they can become impacted or partially erupted. You may experience swelling, pain, infection, decay and compromise the health of neighbouring teeth if they are left untreated. A wisdom teeth removal can ensure the health of your smile.
The first step is to have a consultation and let our dentist explain each step of the procedure to you. At your appointment, we'll sedate you and perform the surgery. You won't have any memory of it and won't have to worry about pain. We'll give you complete aftercare instructions so that you know how best to recover.
Get Started Today
Are you concerned about the health of your teeth? Our experienced, caring team is here for you. Contact us today by phone or email to schedule your appointment with us! We have same-day bookings available. All major health funds are accepted.
CONTACT US

Tooth Extractions Madeley, Marangaroo, Landsdale, Darch WA | (08) 9309 4977